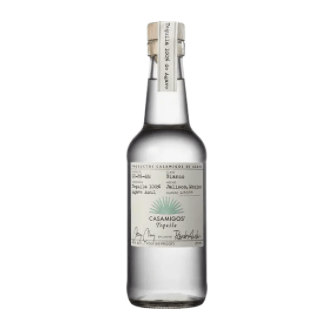 Casamigos
Casamigos Blanco Tequila 375ml
$25.99
$29.99
you save $4.00
Casamigos Blanco Tequila 375ml
Casamigos Blanco Tequila Produced at the Productos Finos de Agave (NOM 1416), this tequila is produced from agaves from the Highlands of Jalisco. Casamigos Blanco Tequila has been aged for 14 months in reconditioned whiskey barrels. And yes, this is George Clooney's tequila.
EXTRA SLOW FERMENTATION: The unique flavor is a result of an 80 hour fermentation process, compared to the average 48 hours.
PROPRIETARY YEAST: Casamigos Master Distiller uses a special yeast blend resulting in a consistent, refined flavor, unlike the commercial yeasts others use.
COLOR: Crystal clear.
AROMA: Hints of citrus & sweet agave.
FLAVOR: Fruit forward with notes of vanilla and grapefruit.
WATER: Purified well water.
REST: 2 months in stainless steel.