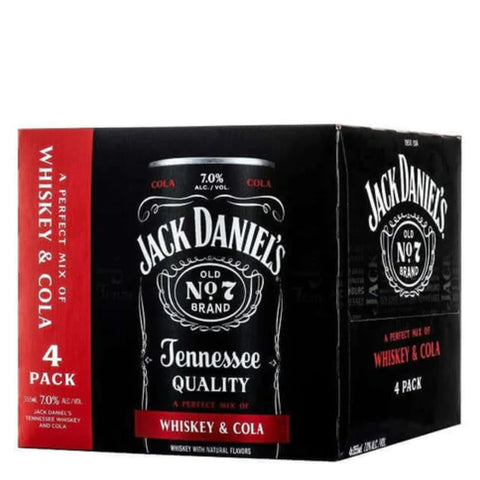 Jack Daniel's
Jack Daniel's Whiskey & Cola Cocktails 4Pk 12oz
$12.99
$19.99
you save $7.00
Jack Daniel's Whiskey & Cola Cocktails 4pk 12oz
This handy pre-mixed Jack Daniel's Whiskey and Cola Cocktails is perfect to take out and drink on the move or have at the park and enjoy a Jack and coke over a picnic. 
Enjoy the real taste of Jack Daniel's Whiskey in a convenient, ready-to-drink format with Jack Daniel's Whiskey & Cola canned cocktail. With real Jack Daniel's Whiskey, the subtle spice of cola and a citrus twist, this iconic cocktail feels familiar, just bolder, colder, and conveniently canned. Best served cold straight from the can or over ice, and always in good company.
Aroma: Slight citrus and subtle brown spice notes complimented with smooth Jack Daniel's Whiskey.
Color: Rich, dark brown
Taste: A perfect combination of Jack Daniel's Whiskey with the citrus and brown spice notes of classic cola.
Finish: Clean and refreshing with lingering notes of vanilla and spice.
Other Varieties:
Jack Daniel's Tennessee Honey Lemonade Cocktail 4pk 12oz
Jack Daniel's Tennessee Apple Whiskey 750ml